Welcome To Break Up With The Past
THE ROAD THROUGH RECOVERY

I'm Coach Donna and I get it!
I learned that searching for answers outside of myself doesn't really work. So, I decide with my experience, background, and expertise, I design my own plan of action.


It's a step by step process so that I can see the progress as I go along. It worked for me and started using it with other women like me who struggled with Rising Up After Divorce.


Discovering how to recover and heal from the inside out gives us power and confidence to face and overcome what's holding us back.


I have a Masters Degree in Human Development, Counseling and Family Studies. Author and inventor of board games published in the the Creative Therapy Store. I'm a blogger for Divorce Magazine and Sixty and Me.
I'm a life-long learner of how the mind works and utilizing its power to teach others how to reach their personal transformation.

Here's What's Included In The Course



In Module One, you will learn all about the Road Through Recovery which is comprised of five phases in the divorce recovery cycle. You will learn the thoughts, feelings, and emotions identified with each of the phases.


In Module Two, there are case study examples of women, just like us, who are stuck in each phase. You will see how each changes her mindset, attitude, and perspective so that she sees the opportunity of how to overcome what is holding her back--more quickly.


In Module Three, you will learn the value of a written goal plan, and how changing your perspective can help you choose the right action steps that will move you past the Road Through Recovery.


In Module Four, You will write a powerful goal statement and goal plan to match so that you choose the right action steps that will empower you to rebuild your new life full of joy and happiness.


All four include a teaching video lecture taking you step by step on how to complete each module, downloadable PDFs, worksheets, and video transcripts.
Each is unique with own circumstances, situations, and conditions, so you will will work through each at your own pace.



Here's What Gabby Has To Say
I had all these conflicting feelings that I didn't know what to do with.I knew I had to do something but couldn't figure out what that was. Honestly, I wasn't sure that a course could help me but I had tried other options and none seemed to work.


By working through this course, I realized that I am responsible for my life now. Holding on to what was--was keeping me stuck so that it felt impossible to change my life for the better.
Taking the focus off the past and focusing on what I want now for the future saved me from years of playing the victim and feeding off it.
Thank you, Donna, for helping me believe in myself again."
Gabby M., Newport, R.I

You Know Exactly What To Do
Step-By-Step
My results-driven process is step by step with everything you need to achieve success. I am passionate about guiding you to learn how to take control of your life so that you make better choices and decisions for your future.



The curriculum for this course is meant to make it as easy as possible for you to begin rebuilding your new life and creating it on your own terms.



This is an example of the first page of the checklist. The whole course is designed make you feel empowered and not waste time trying to figure out what to do next. It is all there and done for you,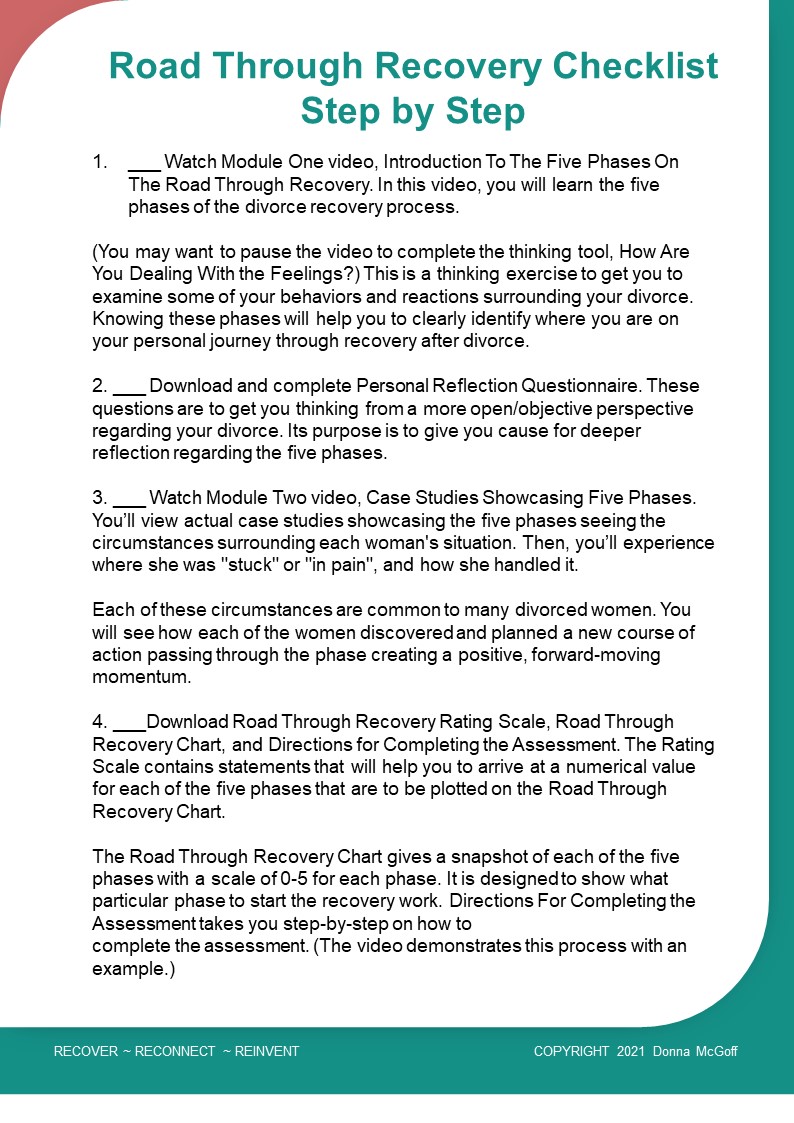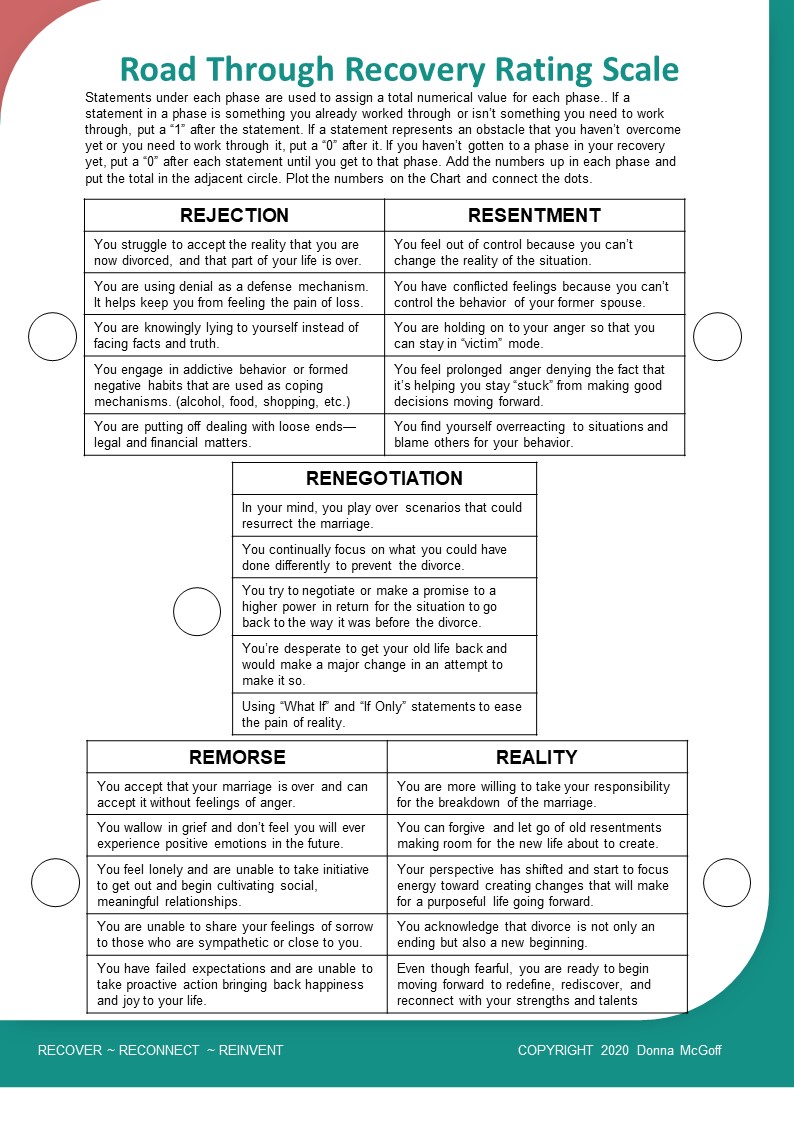 Discover Where You Are "Stuck" or "In Pain".

When you complete this exercise, you will discover where the work needs to begin to move you out of the past.
The purpose is to get you to delve deeper into what circumstance, situation, and condition that if worked on will give you the breakthrough that you need to move forward.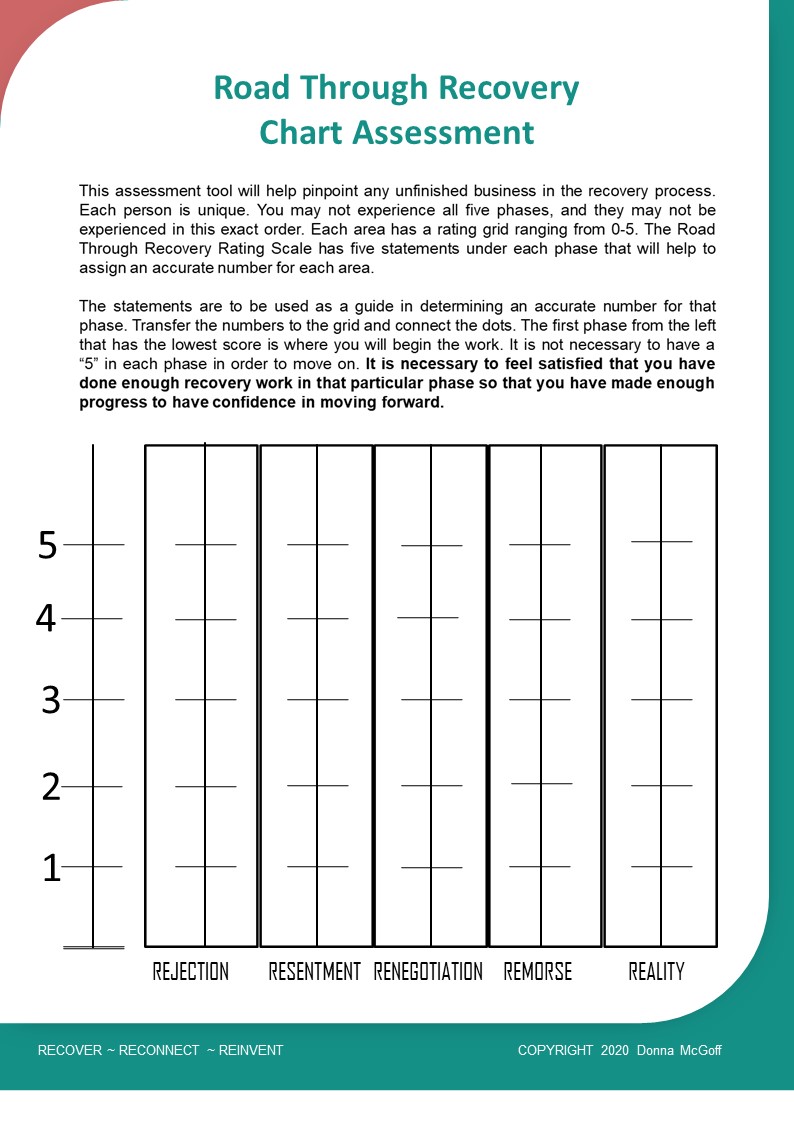 This Chart Give Visual Of Where To Begin.
The advantage of using this chart is that you will be able to see exactly where to start. Not only that, usually when the work is done in one area, it generally improves other areas so that there is less work to do.


You will find the area that will give you the best results and have the most impact quickly.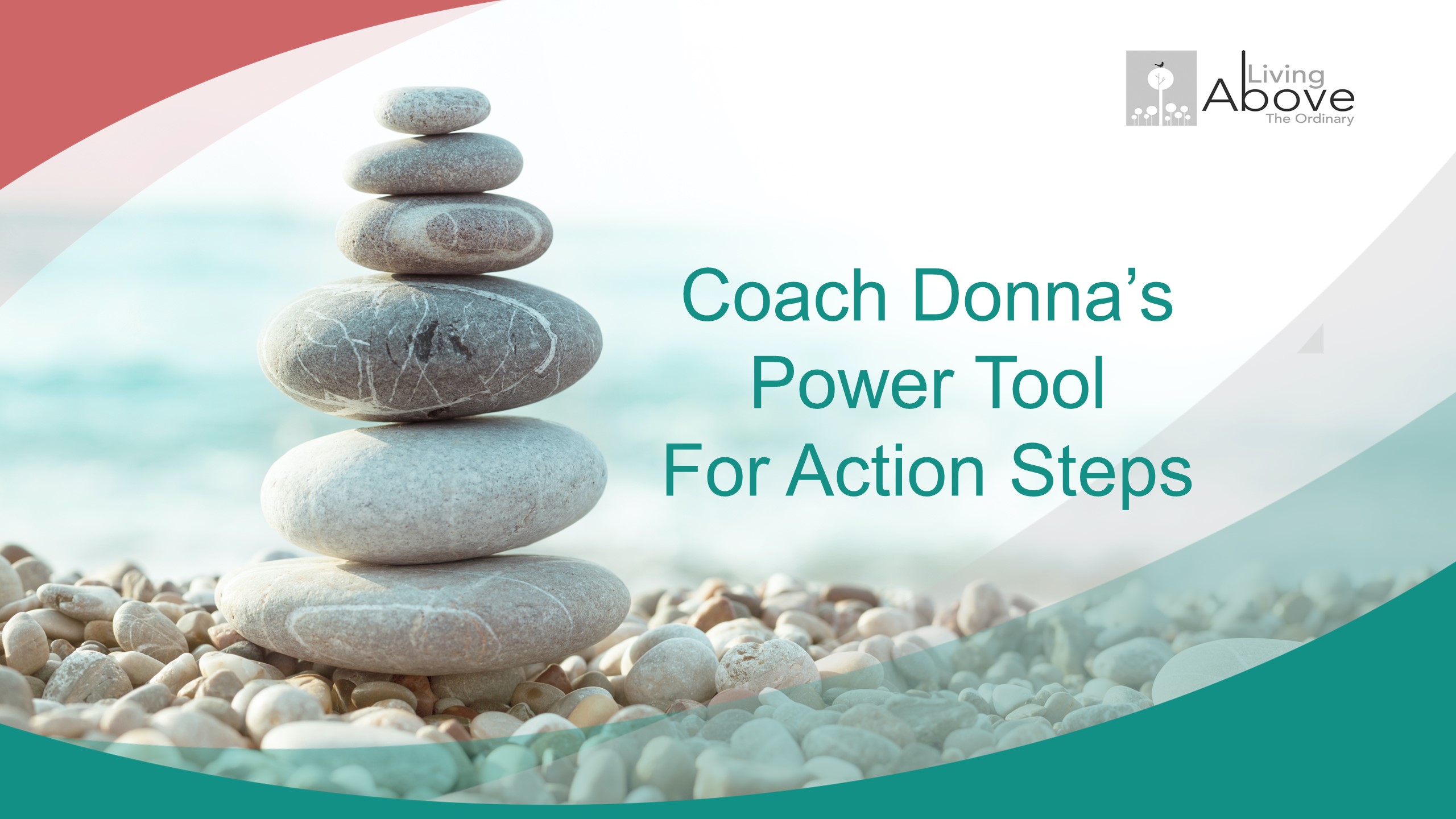 Create Your Goal Plan
When I was trying to figure out what I had to do to move forward, it was hard to know exactly what were the right action steps to include in my goal plan.


I designed a whole list of ideas and suggestions that will steer you in the right direction in creating your own steps. You can use these or they can be used as a springboard showing you the way to go to discover what action you need to take.


Once work on this part, you begin to access your inner power to push through limiting beliefs, challenges, and issues holding you back. You will move out of the past and begin to create the new life that you deserve full of hope, promise, and happiness.
Testimonials
"I felt so impulsive and irrational after my divorce. My emotions were all over the place. I couldn't think clearly. I didn't know what my next move was. Coach Donna guided me in gaining control over myself so that I could begin the work to put my life back together in a positive way." Melissa K.


"No one is prepared for the different way of living after divorce. I had to downsize my lifestyle quite a bit. There were so many challenges to overcome. I didn't know where to start. The plan of action created gave me hope and motivation that I could do this work and move on." Heather P.


FREQUENTLY ASKED QUESTIONS

Where should I be in the divorce recovery process to get the most benefit?

You should have already transitioned through your divorce. You have made the decision to change your life. You are ready to do the work to make it so.


When does the course start, and how long does it last?

After you signup for the course, I will be notified and will personally enroll you in the course.


You work at your own pace. The sooner you work through it, the sooner your life is getting amazing results.


What is the refund policy?

If you are unsatisfied with the course and not seeing the results with all the time and effort you are putting into it, reach out. We will refund up to 10 days with no questions asked.


How long will I have access to the course after purchasing?
You will have full access as long as you need but the sooner you work through the process, the sooner you see amazing results.


Do I need any extra materials to take part in this course?

No extra materials needed except a willingness to change your thinking, attitude, and perspective so that you start to get different results.


What if I want to work more closely with you so that I have support, guidance, and accountability?
Scroll down further and you will see other options to work with me.


How do I contact you if I have a question on the process?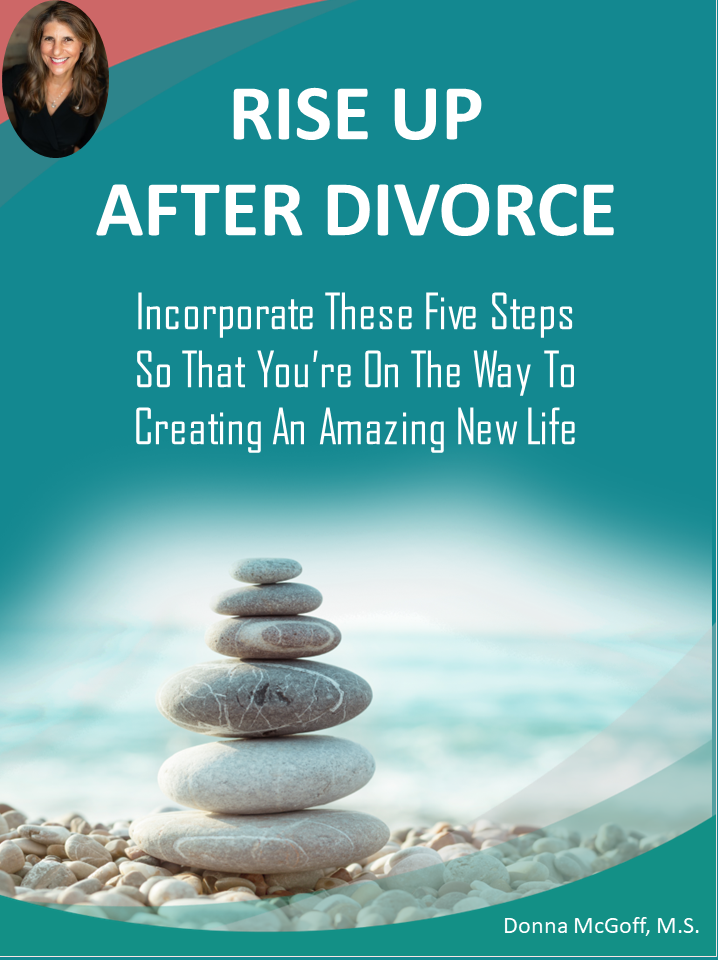 CLICK ON THE BUTTON BELOW. GET YOUR FREE
E-BOOK AS MY GIFT TO YOU.
First, learning about your "triggers" will help you to respond instead of react to situations, conditions, or people in the most beneficial way.


Next, you'll learn the value of noticing your thoughts so that you can change them to more empowering ones if they are negative.


Then, you'll learn to notice the difference it makes in keeping focus on your new goal instead of all the reasons why you can't achieve it.


After that, as you are reaching for your goal, you'll become aware of self-talk telling you all the reasons why you can't instead of why you can. Push them away from your mind.


Lastly, you learn to sit with your feelings; because when you do, it takes away some of the control they have over you. Now, you are in control instead of the other way around.
THIS IS THE FIRST STEP IN CREATING A NEW WAY OF THINKING--YOUR POWERFUL MINDSET.

Here Are Some Other Courses and Coaching Packages
You May Be Interested In To Help You RISE UP AFTER DIVORCE.
Check your inbox to confirm your subscription